Migrant students in Salem-Keizer explore career options through summer program
Published 1:48 p.m. PT July 13, 2017 | Updated 3:03 p.m. PT July 13, 2017
Wednesday afternoon, high school students at Chemeketa Community College were programming code for robotic claws, learning how to fill teeth molds with plaster, using syringes to remove things from vials and baking batches of play dough to explore the physical and mental development of children.
These high schoolers were participating in the pilot year of the Migrant Summer Connections Program and earning college credit in the process.
As migrant families move from one location to another, following agricultural work, the children often miss portions of school.
These gaps can set the students back in credits and limit the opportunities they get to explore college and career options.
There are about 2,000 migrant students in the Salem-Keizer School District, a few hundred of whom are high school age. Any of the high school students whose families have moved for work in the last three years qualify for the new program, which is offered through a partnership with Chemeketa.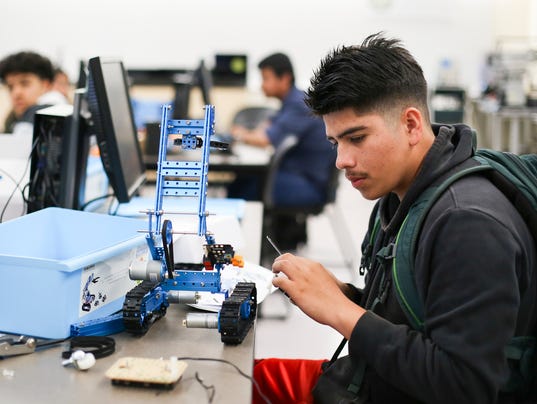 (Photo: MOLLY J. SMITH/Statesman Journal)
This year, 76 students are in the program, an increase from the 40-50 students that would participate each year in the previous Summer Migrant High School Program. It only included credit recovery.
In the new, four-week-long program, students spend their mornings in credit recovery classes, which count toward their diploma and are taught by Salem-Keizer teachers. Students can use these classes to catch up or get ahead.
In the afternoon, they break into four tracks — robotics, dental hygienics, pharmacy tech or early childhood education — which are taught by Chemeketa employees. They select their track at the start of the program and spend each afternoon exploring it in depth, earning college credit.
"The most beneficial part of the program is that it gives (the students) a chance to explore careers they've never thought about, or have and now they get the chance to confirm their interest," said Johnny Mack, executive dean of career technical education at Chemeketa.
Also, he said, spending time on a college campus, doing college-level work, helps students see themselves attending college after high school.
In addition to courses and labs, the students learn professional skills and take excursions, like doing mock interviews and visiting Salem-Keizer's Career Technical Education Center.
The program is free to the students; the district provides breakfast and a lunch voucher so the students can eat with Chemeketa students.
Brad Capener, director of migrant education for the school district, got the idea for the pilot program when he heard about a version in Texas seeing success in engaging and retaining students and exposing them to post-graduate choices.
Even in the first half of the program this year, Capener said, he has started to see the students take more initiative and talk about how the program has inspired them to pursue careers related to their tracks. For instance, a few students in the robotics group said they are interested in becoming engineers because of their experience.
Capener is interested in pursuing grants that would allow them to pay the students to attend the program since many pass the chance for work.
Tyler Scialo-Lakeberg, the lead program teacher from Salem-Keizer, said getting the students to think about a life outside their parents' is vital.
"Getting them to experience that opens a whole new world," she said.
Scialo-Lakeberg said the students are eager to learn. What she wants is for students to see these opportunities, see Chemeketa students, and think, "This could be me."
Contact Natalie Pate at npate@StatesmanJournal.com, 503-399-6745, or follow her on Twitter @Nataliempate or on Facebook at www.Facebook.com/nataliepatejournalist